This is an archived article and the information in the article may be outdated. Please look at the time stamp on the story to see when it was last updated.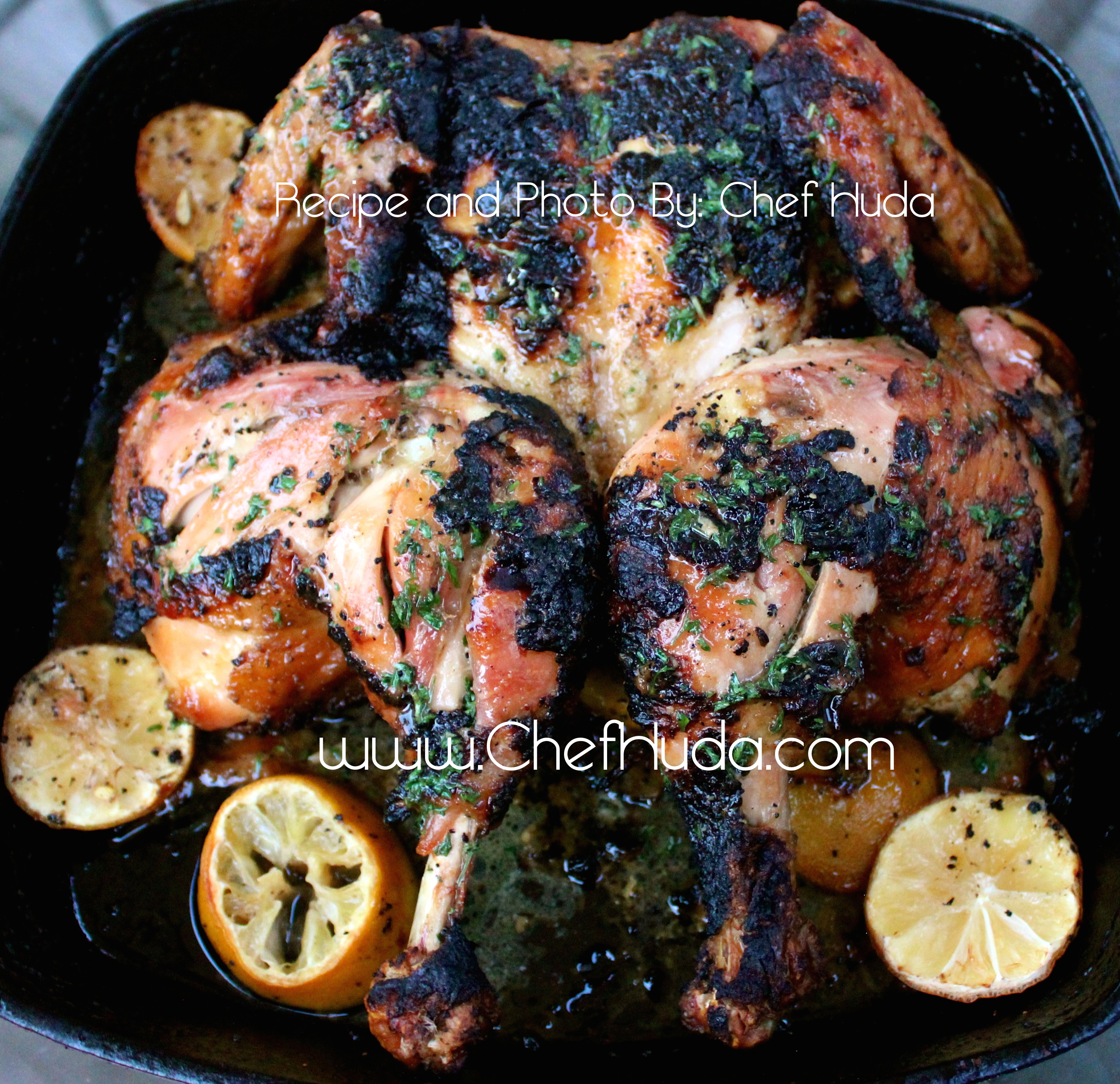 Recipe and Photo By: Chef Huda
Grilled Lemon Garlic Chicken
What You Need
3 1/2- to 4-pound roasting chicken – clean and butterflied
1/4 cup olive oil
6 fresh lemons – halved
1/2 cup fresh lemon juice
2 teaspoons fresh lemon zest
4 tablespoons fresh thyme minced
1/2 cup chopped fresh parsley – rough chopped
5 fresh garlic cloves – minced
2 teaspoon Kosher salt
1 teaspoon black pepper
Now, let's make something Pretty and Delicious™
Let's start with your marinade. In a medium bowl, whisk together lemon juice, lemon zest, thyme, garlic, salt, black pepper and oil.
In a shallow dish, pour some of the marinade and spread across the bottom of the dish evenly.
Then place your chicken skin side down and pull the remaining marinade over the chicken. Make sure the entire chicken is coated with the marinade. Let the chicken marinate for at least 30 minutes at room temperature.
Chef Huda's Note: If you don't have a big enough dish to marinate in, large plastic bags are great to use for this purpose. If you marinate the chicken over night leave out the lemon juice and add the lemon 30 minutes before cooking. The acid in lemon juice can effect the texture and eating experience when left on raw chicken for a long period of time.
Prepare your grill to be between 350°F and 400°F. When your grill is nice and hot. Place the chicken breast side down on the cooler side of the grill and loosely cover with foil. Cook for 15 minutes on one side then turn over. The chicken should cook for roughly 30 to 45 minutes depending on the temperature of the grill and size of the chicken. Let cook until the chicken reaches an internal temperature on 165°F in the thickest part of the thigh or breast.
Chef Huda's Grilling Tip: Make sure your grill is oiled and place the chicken on the cooler side of the grill. This will help prevent the skin burning right away.
When the Remove the chicken grill and loosely cover with aluminum foil and let rest for 5-10 minutes. Plate as desired and garnish with grilled lemons and fresh thyme.
Chef Huda's Serves It Up: This is dish is impressively delicious. I like presenting the chicken whole to my guest with lots of grilled lemon and cracked pepper. Carving the chicken at the table makes your guests' mouth water while they wait for their piece. Deliciously devious..I know. Enjoy!
 For more Pretty & Delicious Recipes visit www.ChefHuda.com 
~~~~~~
Chef Huda is a multi-talented personality in the worlds of Food, Fashion & Entertainment and has gained international notoriety for her pretty and delicious dishes and expertise in Healthy Comfort Food. She has been featured on NBC, ABC, CBS, The CW, Fox, Howard Stern's Show, Donald Trump's Show, The Ultimate Merger, Vogue (Italia) to name a few and is a food and entertainment contributing writer for an array of media outlets including; The CW Network, The ROOT and a lifestyle expert for Monarch Magazine. The multi-talented Chef Huda was recently a featured favorite on ABC's hit show, "The Taste" that debuted at #1, with celebrity chef judges Anthony Bourdain and Nigella Lawson and also serves as an Ambassador for The American Heart Association.
                           
Let's Get Social!  
Follow Chef Huda on
http://www.Facebook.com/MyChefHuda  
http://www.twitter.com/chefhuda    
http://www.instagram.com/ChefHuda