This is an archived article and the information in the article may be outdated. Please look at the time stamp on the story to see when it was last updated.
FAIRFAX CO. – We've all gotten the occasional call or text from someone who contacted the wrong number. A simple "Sorry, I think you have the wrong number" is normally the extent of that conversation.
Well, apparently that's not the case when the person contacting the wrong number texts a police officer and offers marijuana.
Fairfax County Police say a man texted one of their officers,
Police say a detective continued the conversation and schedule a time to meet up.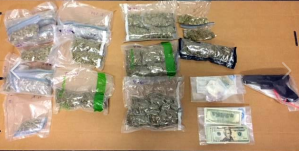 Upon meeting, officers found more than a pound of marijuana on him and arrested him.
Then, police say they searched the man's home and found another pound of marijuana, suspected illegal narcotics, and cash.
Police say they charged the man with possession with intent to distribute.