This is an archived article and the information in the article may be outdated. Please look at the time stamp on the story to see when it was last updated.
PRINCE GEORGE'S CO. – Around 4 a.m. Wednesday morning Prince George's County Police reported that a white pick up truck had backed up and crashed into a 7/11. The 7/11 was located in the 4900 block of Edgewood Road in College Park.
Police stated that five suspects were in the truck at the time. After the truck hit the store and knocked an ATM off it's base, the five suspects reportedly loaded the ATM into the truck and fled the scene.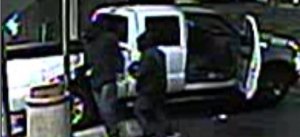 None of the employees in the store at the time were harmed, and the truck was located Wednesday afternoon. A damaged ATM machine was also found but police are unable to confirm at this time if it was the same one stolen from the 7/11.