This is an archived article and the information in the article may be outdated. Please look at the time stamp on the story to see when it was last updated.
(CNN) — The last remaining member of the Wild Boars soccer team and their coach have been pulled out of a flooded cave in Thailand, bringing an end to a near three-week ordeal that prompted an international rescue effort that captivated audiences around the world.
The twelfth boy and his coach were the last of the team to be rescued Tuesday, after a complicated three-day operation to extricate the team, who became trapped on June 23 when rising flood water cut them off deep inside the cave.
In the last 18 days, what began as a local search for the missing 13 turned into a complex rescue operation, involving hundreds of experts who flew in from around the world to help.
The parents of the boys have maintained a constant vigil outside the cave since they went missing, praying for their safe return.
All of the boys and their coach have now been transported to a nearby hospital where eight of their teammates are recuperating after being rescued Sunday and Monday.
The last of the group to emerge from the cave on Tuesday were four Navy SEALs, including a doctor who stayed with the team for a week after their discovery.
"We are not sure if this is a miracle, a science, or what. All the thirteen Wild Boars are now out of the cave," the Thai Navy SEALS said in a Facebook post confirming the entire soccer team had been rescued.
Nineteen divers entered the cave at 10 a.m. local time Tuesday (11 p.m. Monday ET), many on their third mission in three days, with the aim of bringing everyone inside the cave out.
Tuesday's rescue took nine hours in total, from the time the divers entered the cave to bringing out the boys and their coach.
Rescued boys recovering in hospital
Earlier Tuesday, more details emerged about the ages and condition of the children already freed from the cave.
All eight boys rescued on Sunday and Monday are being treated in an isolation ward in a Chiang Rai hospital. Medical officials told reporters Tuesday that they're healthy, fever-free, mentally fit and "seem to be in high spirits."
Some of the boys have even asked for bread with chocolate spread — which they were given, said Jedsada Chokedamrongsook, the permanent secretary of the Thai Health Ministry. Though they'll mostly be eating a food similar to milk and rich in proteins and nutrients.
Chokedamrongsook said the first group of boys taken out on Sunday were aged 14 to 16. Their body temperatures were very low when they emerged, and two are suspected of having lung inflammation.
Families of the first four have been able to see their children through a glass window, Chokedamrongsook said. They were also able to talk on the phone. They'll be allowed to enter the room if tests show the boys are free of infection.
The second group freed on Monday were aged 12 to 14. One had a very slow heartbeat but had responded well to treatment, Chokedamrongsook said. The hospital has sent test samples from the boys to a lab in Bangkok.
Authorities will likely look for signs of Histoplasmosis, also known as "cave disease," an infection caused by breathing in spores of a fungus often found in bird and bat droppings.
They are all likely to stay in hospital for up to a week, due to their weakened immune systems. Thai Prime Minister Gen. Prayut Chan-ocha visited the hospital Monday, and spoke to relatives and hospital workers.
Shortly after the news of the boys' safe return broke, US President Donald Trump tweeted his congratulations to the Navy SEAL team.
"On behalf of the United States, congratulations to the Thai Navy SEALs and all on the successful rescue of the 12 boys and their coach from the treacherous cave in Thailand. Such a beautiful moment — all freed, great job!"
Treacherous conditions
Divers involved in the rescue described treacherous conditions, with fast-moving shallow water passing through very narrow passages.
"This is the hardest mission we've ever done. The lower the water is getting, the stronger the current. It's stronger now. Every step of the extraction is risky," said Narongsuk Keasub, a diver for the Electricity Generating Authority of Thailand.
He's one of a group of divers whose job is to transport air tanks into the tunnels for the SEAL teams. Before the final rescue, he told CNN that divers inside the cave faced a number of challenges.
"We can only see our hands (at a) short distance. Secondly, the stones are razor sharp which is dangerous for our diving, (and) thirdly the passage is very narrow," he said.
Keasub said that the thought of their own children kept them going. "I'm quite emotional as a father — everybody has this feeling because we feel like it's our children who are inside the cave."
A dangerous journey
For several days, rain threatened to hamper what was already a complicated rescue mission. When it became clear the boys were likely going to have to dive out, experts were sent in to teach them how to use scuba gear.
Officials sourced full-faced oxygen masks small enough to fit the boys, to remove the chances of them falling off during the long arduous journey through the craggy tunnels.
Two days before the first four boys were rescued, officials warned that oxygen levels with in the cave had fallen to 15%.
Forecasts of more rain also threatened to raise water levels, further educing the amount of available air and jeopardizing efforts to get the boys out. However, a few days of relatively clear skies allowed rescuers to pump enough water out of the cave to allow the boys to walk through some sections.
During the hours-long trip out of the cave, each boy was accompanied underwater by two divers helping them navigate the dark, murky water. The most dangerous part is the first kilometer, during which the divers and boys are required to squeeze through a narrow, flooded channel.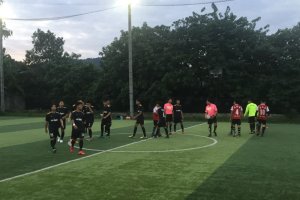 Rescuers needed to hold the boys' oxygen tanks in front of them and swim pencil-like through submerged holes. Having completed this section, the boys are then handed over to separate, specialist rescue teams, who help assist them through the remainder of the cave, much of which they can wade through.
So treacherous were the conditions that one Thai Navy SEAL died during operations last week, a blow to rescuers who faced a race against time to free the soccer team.
---
(CNN) — All 12 junior member of the Wild Boars soccer team have been rescued after being trapped for more than two weeks in a flooded cave network in northern Thailand.
The boys are from several schools in the Chiang Rai province of northern Thailand. In the days since their ordeal began, details emerged about their ages, favorite foods and soccer teams.
Here's what we know:
Peerapat Sompeangjai, 16
Peerapat Sompeangjai turned 16 on the day the group went missing, June 23.
On Sunday, his 17-year-old sister Phanphatsa told CNN she promised to make her brother another birthday cake — and all his favorite foods — on his safe return.
She added that their parents had slept at the cave every night since he went missing.
Ponchai Khamluang, 16
Ponchai Khamluang attends Ban Pa Yang School.
Pipat Bhodi, 15
Pipat Bhodi, a student at Ban San Sai School, also had his birthday on June 23, the day the boys went missing.
Prajak Sutham, 15
The eighth-grade student at Mae Sai Prasitsart School had his 15th birthday on July 1 while trapped inside the cave.
His aunt, Salisa Promjak, told CNN ahead of the rescue, "It's like I'm counting every second. I want to see his face, I want to see how he gets out, how they get him out. I am so happy."
The boy's grandmother, Kiawkham Chantaphoon, added, "Grandma loves you the most in the whole world. I miss you dearly. I thank every country, everyone (who is) helping the kids to get out.
"It's like a miracle," she said.
Ardoon Sam-aon, 14
Ardoon Sam-aon is an eighth-grade student at Ban Wiang Phan School.
Akarat Wongsukchan, 14
Akarat Wongsukchan is a student at Darunratwitthaya School.
Natthawut Takumsong, 14
Natthawut Takumsong is a grade-eight student at Mae Sai Prasitsart school. His family told CNN Sunday they were praying for his safe return, and the first thing they'll do when he's out is throw a birthday party for him.
His grandmother, Wankaew Pakhumma, has been praying at a small shrine in their home every day for his safe return. "I worry (that) the officials (won't) get them out safely."
Panumas Saeng-Dee, 13
Panumas Saeng-Dee is also a student at Mae Sai Prasitsart School.
Duangphet Promthep, 13
Duangphet Promthep also attends Mae Sai Prasitsart School.
Somjai Jaiwong, 13
Somjai Jaiwong attends Mae Sai Prasitsart School.
Mongkol Boonpiam, 13
Mongkol Boonpiam is a grade-seven student at Ban Pa Muat School.
Chanin Viboonrungruang, 11
The youngest of the group is Chanin Viboonrungruang, who is in his final year at Anubanmaesai primary school in Mae Sai.
In a letter to his parents posted on the Thai SEALs Facebook page, Chanin who's known to his friends as Titun, told his parents, "Don't worry about me. I am fine. Please tell Pee Yod (a female relative) to take me to eat fried chicken. Love you all," he said.
The boy's father, Tanawat Viboonrungruang, explained to CNN that his son was referring to a promise made to the boy by his aunt go to the local KFC.
"I felt better as my son said that he was fine and strong," he said. "I felt relieved after I had been worried about my son that he would be exhausted. I felt better. But I don't know whether is tired or not."
Viboonrungruang, who has spent most of the past few days keeping vigil at the entrance of the cave, described his son as a friendly, lively, popular boy who dreams of becoming a professional soccer player and is a supporter of both the Arsenal and Barcelona teams.
"He's been playing football since he was young, and he started it just at age 8 or 9," he said.
He said Titun had said he was going training at a local soccer field on the day he went missing, but didn't mention the trip to the cave.
"I called him on the 23rd of June at around 3 p.m., but I couldn't reach him or the coach," he said.
"I wasn't able to contact him. So I tried to contact him again at about 6 or 7 pm but I couldn't. I knew that they were trapped at around 11 p.m."
Akkapol Chanthawong, 25, coach
Ahead of the rescue, the boys' coach, who is also known as Eak, sent a letter to parents apologizing for their boys' ordeal.
"Dear all the parents,
All the kids are fine. There are people taking really good care of them. I promise I will take care of the children the best I can. Thank you for your support. I'm really sorry to the parents," he wrote.
The parents replied:
"We, as your soccer team members' parents believe in you and your spirit that you've been taking a good care of our kids. We just want you to know that this is not your fault. We all here don't blame you and just want you to not to blame yourself. We all understand all the situations that have happened and we are here supporting you. We appreciate all your loving support and care to our kids. We are waiting for the news that you all get back out of the cave safely soon.
"Your aunt is also here waiting for you at the entrance."
---
(CNN) — He was likely the first one into the cave and on Tuesday was the last one pulled out.
Ekkapol Ake Chantawong, the 25-year-old coach of the Wild Boars soccer team, has been criticized by some for what is perceived to be an act of supreme recklessness.
Why did he, the adult tasked with taking care of 12 young children, decide to lead the group into a dangerous, forbidden network of underground tunnels, known to flood at this time of year?
To those who know the former monk and community worker, the willingness of others to judge from afar has led to a characterization they say is unfair and inaccurate.
Thamma Kantawong is one of only two living relatives of Coach Ake, as he is popularly known around town. The other is his elderly grandmother.
Though Kantawong is Ake's cousin, she says she thinks of him more as a young nephew, owing to the age gap between the two family members. She refers to herself as his aunt.
From inside her modest home in Mae Sai, Kantawong recounts Ake's traumatic childhood and the death of his parents.
"His mother died while he was still very, very young and his father passed away when he was just 10," she says. His brother, his only sibling, also died very young, says Kantawong, showing us an old family picture of Ake with his parents and brother.
As a result, Ake, like many orphaned children in Thailand, moved away from his childhood home of Mae Sai to become a Buddhist monk at a monastery in the nearby province of Lum Phun.
He remained in the care of the monastery for much of the next decade, only coming back to his hometown on occasion to see his grandmother. It was a very tough period for such a young boy to endure, says Kantawong, who did not see him very often during this time.
Ake would eventually return to his Mae Sai in his 20s man looking to rebuild his life. Though no longer a monk, he has maintained close ties with the town's numerous temples, where friends say he regularly spends his time praying and assisting in renovations.
Kantawong credits her nephew's devout faith for his willingness to help others, pointing out that he did not eat for the first few days in the cave, and instead shared his food among the children.
This selflessness, says Kantawong, is what helped to keep the children alive during those first nine agonizing days before divers discovered the missing group huddled together on a ledge, surrounded by floodwater, some 4 kilometers (2.5 miles) into the cave network.
"He loves the football team. Wherever he goes, he always has some of the kids with him," she says. "Their parents trust him that he can take of their sons."
Kantawong says that although Ake organizes and coaches several training sessions a week for the junior Wild Boars team, he receives only a small stipend. "He's not motivated by money," she says. "He does it because he loves soccer and working with children."
Kantawong rejects the idea that he would knowingly do anything that might harm the children. "He is very good person, loves kids, takes care of kids, he is very diligent, and always volunteers himself to help others," she says. "The language he speaks is very polite. For him whoever will like him how the way he is."
It's a view shared at the Wild Boars club, where Ake is the coach of the junior team.
On Monday night, the club's senior squad resumed training for the first time since the disappearance of the junior side 18 days ago.
The club had previously suspended all matches and training sessions, deciding it would be inappropriate to play football while their junior teammates were trapped inside the cave.
But now, with the early stages of the rescue effort proving successful, the club's head coach, Nopparat Kanthawong, suggested the team come together in a show of unity with the rescuers.
During the early evening practice session, members of the senior team talked of their fondness and respect for the junior coach, recalling memories of how he would give up his personal time to help organize activities for the children.
"Coach Ake is a type of a guy who loves all the kids," says 17-year-old Kae-hae Lahuna. "After we all finish practice, he always takes each of the younger kids home, to make sure they're all safe. He takes good care of the kids and likes to spoil them very much," he adds.
The teams training facility sits in the shadow of the mountains where the caves are located. Typically, the junior team will finish practicing before the senior team take to the pitch. Lahuna was among the players who were still training on Saturday, June 23, as anxious parents began to call the head coach to ask if he knew where their children were.
"When we first heard they were missing at the caves, I and around 10 other senior members of the team rushed into the mountains to look for them. We were the first people there," says Lahuna.
"We waited at the cave entrance for them until 4 a.m. the next day."
Pannawit Jongkham, the coach of the senior team, who joined the search later that same evening, says everyone associated with the Wild Boars is behind coach Ake, as they have been since the first day of the rescue.
"When he is out, everything will be the same, we will support him, nothing will change," says Jongkham.
At a Buddhist temple behind the house of Ake's aunt, on the edges of Thailand's northern border with Myanmar, community members are hopeful he will be back riding his bike across town and taking the kids out into the countryside.
One former monk, who gave his name as Jay, described Ake as an active part of life in Mae Sai.
"He is always out with the kids on bike rides into the hills," says Jay, who is now an artist and is helping to paint the temple's decorative internal columns.
Like Jay, Ake is also a volunteer, who assists in the upkeep of the town's various temples. "He's a well-known guy. A good guy," says Jay. "He helps us out a lot."
"I see him often at the Wat Pha That Doi Wao temple on the hill, where he comes to pray," he says. "We are often catch up and talk together."
Kantawong says she's been in contact with the authorities and is hopeful she will see Ake again in the coming days.
She is at pains to thank the rescuers for their efforts and the unending debt of gratitude she owes to the Thai Navy SEALs, one of whom died last Friday during the pre-rescue operation.
Kantawong says she does not know why her nephew entered the cave, though suggests the boys could have been looking for shade after a long bike ride in the summer heat. "Maybe he just wanted to rest, maybe he felt hot," she says.
She is aware that some people will always hold him responsible for the group's predicament, though she hopes that people will be forgiving.
"I think foreigners and Thai people are kind enough to welcome him back," she says. "He's a very good man."