This is an archived article and the information in the article may be outdated. Please look at the time stamp on the story to see when it was last updated.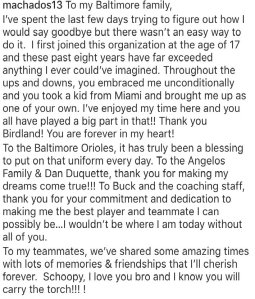 LOS ANGELES, Ca.– Even though his trade was talked about for months, Manny Machado is finally suiting up in a new uniform following a trade between the Baltimore Orioles and the Los Angeles Dodgers.
Machado is expected to play shortstop for the Dodgers as they attempt to make a return trip to the World Series.
Above you'll find a message Machado sent to his fans through social media thanking the Orioles organization and fans of the team for the support they've shown him through his career. He also wished his former teammates well, singling out Jonathan Schoop as a team leader.
"Baltimore will forever hold a piece of my heart," said Machado.
In a press conference Friday, he acknowledged relief over the deal finally being done.
"I'm excited to be here," Machado told the press before his first game. "You try not to think about [the trade rumors] when you play but you can't help it. It's better when you can just go out and play."
Machado will be wearing number 8. When asked if it's a nod to Cal Ripken (the Orioles' Hall of Famer) he talked about "new beginnings" and playing with the new number in honor of another Los Angeles superstar athlete.
"I'm a huge Kobe fan," said Machado. "The signing of LeBron James (by the Los Angeles Lakers a few weeks ago) played a big factor in me wanting to come here, too."
Machado said he won't try to do much in his new role on the Dodgers, just try to win.
"I want to win a championship, everyone does," said Machado. "This may make that a little bit easier."