This is an archived article and the information in the article may be outdated. Please look at the time stamp on the story to see when it was last updated.
MONTGOMERY CO. – Firefighters rescued multiple people from a 2-alarm apartment fire in Silver Spring early Saturday morning, according to the Montgomery County Fire Department.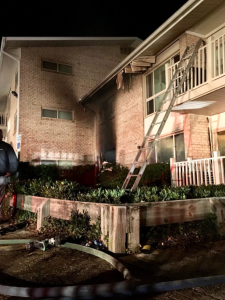 Officials say the fire broke out around midnight at an apartment complex at the 500 block of Thayer Avenue in Silver Spring.
The cause of the fire was a laptop that overheated and caught a bed on fire.
The fire impacted 12 units, and the damages are estimated to be $550,000.
A spokesperson for the fire department says over two dozen are displaced, and one non-life threatening injury was reported.