This is an archived article and the information in the article may be outdated. Please look at the time stamp on the story to see when it was last updated.
PRINCE GEORGES CO. – Police are searching for suspects who robbed a restaurant in Capitol Heights last week.
Police say three suspects entered a restaurant located in the 4400 block of Southern Avenue on Friday around 6:15 a.m. with handguns.
Inside, police say the suspects stole several items from victims inside the business.
Police released a surveillance photo of the suspects on Wednesday and are asking for the public's help identifying them.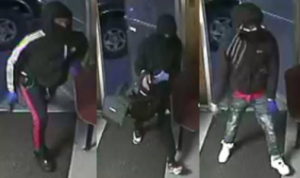 Anyone with information is asked to call police at 301-772-4905. A cash reward is being offered.