This is an archived article and the information in the article may be outdated. Please look at the time stamp on the story to see when it was last updated.
WASHINGTON, D.C. – Who doesn't love pandas, cake, and rainbows? Well, combine them all together and that's what went down at the zoo on Sunday.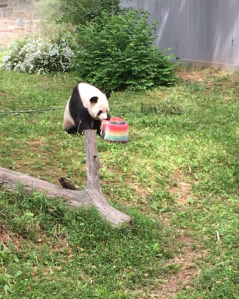 For the first time ever, Smithsonian's National Zoo recognized International Family Equality Day for the annual "Gay Day at the Zoo," according to The D.C. Center for the LGBT Community.
The zoo organized a schedule of family-focused events that happened throughout the day including field games, special animal demonstrations, and live entertainment. Of course, the icing on top was getting to see a panda eat a rainbow ice cake.
"Gay Day at the Zoo" is a day that LGBTQ families, friends, and allies come together to show their pride while enjoying the animals, events, and sights of the zoo.