This is an archived article and the information in the article may be outdated. Please look at the time stamp on the story to see when it was last updated.
WASHINGTON, D.C.  —  Metro stops could determine whether DC babies will live a long life. A new study by Virginia Commonwealth University's Center on Society and Health highlights that some neighborhoods are healthier than others in the DMV.
The map VCU illustrated shows babies born in DC and Prince George's County have a shorter lifespan than those babies born in Fairfax County or Arlington County. Those babies born in Northern Virginia life expectancy is 86 years old, that's 8 more years than children born in DC and Prince George's County.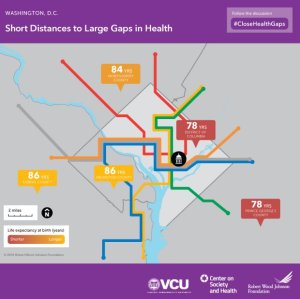 VCU said it developed the maps based on vital statistics obtained from state and local health agencies and population data from the U.S. Census Bureau and the U.S. Centers for Disease Control and Prevention.  Researchers, along with colleagues nationwide use the data to calculate newborn life expectancy.
According to the study,  gaps in health across neighborhoods stem from multiple factors including, education, income, safe housing, exercise,  access to medical care, and reliable public transit.