This is an archived article and the information in the article may be outdated. Please look at the time stamp on the story to see when it was last updated.
WASHINGTON, D.C. – A neighbor who happened to be a firefighter saved a woman on fire in Northwest, D.C.  Monday morning.
Daniel Atlas, a D.C. firefighter, rushed outside of his home this morning to find his neighbor on fire in the front yard. The fire broke out this morning at the 1300 block of Rittenhouse Street NW, officials say.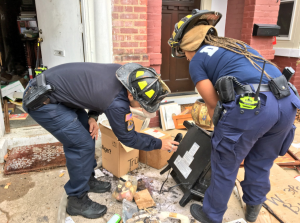 Atlas extinguished the woman's burning clothes, provided primary care, and used an extinguisher to prevent the fire from spreading to neighboring homes.
Fire officials say the woman's home contained extreme hoarding conditions. The cause of the fire is still under investigation.