This is an archived article and the information in the article may be outdated. Please look at the time stamp on the story to see when it was last updated.
WASHINGTON, D.C. - A parent's worst nightmare has become an everyday reality for Valencia Harris.
That is, since October 10, 2010.
"When you don't know where your child is, there is a sense in you of total and complete fear," she says. "I'm wrestling with the fact that my daughter is unaccounted for."
Valencia says her daughter, Unique, just 24-years-old at the time, was living in an apartment on the 2400 block of Hartford Street in Southeast for about five weeks before she vanished.
She moved there with her two sons, ages three and four, from Richmond.
Hours before she disappeared, Valencia says she talked with her daughter on the phone as the two often did.
She planned a movie night with her boys and her cousin, who was sleeping over for the night.
However, when her cousin's mom came to pick her up the next day, Valencia says Unique was nowhere to be found.
"I'm calling her, like where are you, what's going on, I'm getting scared, I'm getting ready to call police," says Valencia. "I'm still waiting for that phone call, for this to be some awful type of dream or nightmare that I won't wake up from."
D.C. Police said that Unique's bed wasn't slept in that night, and her purse and ID were left behind, as well as her glasses, folded up on a pillow.
Valencia says that part always stuck with her.
"From the time Unique has been a very small child, her vision has been impaired, and her vision has been impaired to the point where Unique can't see five to ten feet in front of her clearly," she says. "There's no way that Unique could have made it out of her apartment on her own volition without her eye glasses."
It's a piece of this mysterious, heartbreaking puzzle that has led Valencia to firmly believe all along that her daughter was taken against her own will.
Not to mention, she says, Unique just doesn't do this.
"I've had to wrestle every day with the fact that I know my child wouldn't stay away from her children this long and I mean from day one, this isn't Unique, she would never leave those children in the house," Valencia says.
She recently had several pictures put together to show what Unique may look like today, in her thirties.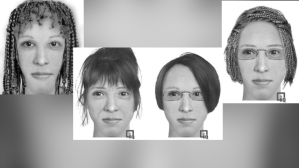 It's the latest effort in her years-long, dedicated mission of searching for answers.
"This is by far the most unnatural situation I've ever had to deal with in my life," he says.
Unique's missing persons case is still open to this day. Valencia says the case has gone through seven detectives, currently assigned to its eighth detective.
While D.C. Police did not want to comment for our story, they have continued to broadcast Unique's case on social media.
Unique Harris is not forgotten by her family or community. Someone knows something. Together, we can solve this case. Text info to 50411. pic.twitter.com/DqwlS5NxFL

— DC Police Department (@DCPoliceDept) October 8, 2017
Valencia says her conversations with Chief Peter Newsham, as well as his efforts so far, have given her renewed faith.
However, she warns, she's not going anywhere.
"It's their job to find Unique ,but it's my responsibility to help them as her mother, her sons are too young."
Anyone with information on Unique Harris is asked to contact police at 202-727-9099 or the Youth and Family Services Division at 202-576-6768.