This is an archived article and the information in the article may be outdated. Please look at the time stamp on the story to see when it was last updated.
UPPER MARLBORO, Md. - 23-year-old Larry Esho still has an impressive jumpshot on the basketball court, but he will never be able to play his favorite sport like he used to.
He can't fully run on his own, and even walking isn't easy.
However, he doesn't focus on what he can't do. Instead, he looks at how far he's come.
"It does definitely makes you look at life a whole different way," he says. "It could always be worse, that's what's always in my mind, like, I can't complain, somebody else might not have made it."
At age 20, Larry says he was working two different jobs and had plans to become a nurse like his mother, Tina, who works in the ICU.
Larry still hasn't gotten that chance.
On May 15th, 2015, he ended up in the hospital, but as a patient, after being shot four times. Tina says he was struck in the head, neck, and twice in the chest, in broad daylight outside their home.
"I saw my baby, lifeless, on the street," she says. "I turn him over, I say Larry, I see blood I don't know if he's been hit by a car, I don't know what was happened. Then I just start thanking Jesus because he starts to move."
Tina says Larry was rushed to the  University of Maryland Prince George's Hospital Center. He had to undergo brain surgery and a tracheostomy.
"The nurse, he says he has no gag reflex, his pupils are fixed and dilated, basically telling me the signs that you're brain dead," says Tina. "I smiled, I said thank you, bowed my head, and went to my baby and prayed."
Tina refused to leave Larry's side, even through six long, scary, weeks in the ICU.
"I don't know what day it is, I can't see nothing I'm speaking in my head, I know what I'm trying to say, I know where I'm at because I can hear beep, beep, and I can hear the nurses," says Larry, who says he still cannot recall getting shot.
"I'm just kind of freaking out inside because like, I'm buried alive," he says. "After day two, I can finally move my fingers a little bit, I start to write on my mom's hand, just the letter 'Y,' like ,why? And she's crying."
Larry says when his mom eventually told him why he was in the hospital, he was in disbelief.
"I just held the '4' up on my hand, and I was crying because I never knew I was shot, I was crying, but at the same time I was happy because I was alive."
Through Larry's six-week journey in the ICU, Tina developed a sign language with him for the time that he couldn't speak.
He says he had to re-learn how to do almost everything.
"Just the simplest things like holding my head up, I couldn't do it," he says. "I'm just happy that I was even alive to feel the pain , that's kind of how I got through it, you know I couldn't talk but I was still able to feel pain."
Larry eventually transferred to another hospital, then spent time in a rehab center. In total, he spent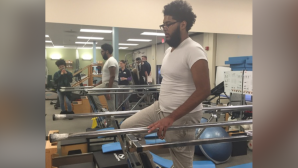 five months away from his home for a shooting that could have killed him.
"He is a remarkable man, it took a lot of hard work, and he did it," says Tina. "Nobody thought he was going to live but I didn't ever lose hope, and obviously he didn't."
"God kept me going, my family," says Larry.
As he worked every day to get better, Larry says he also spent a lot of time wondering why.
The Prince George's County State's Attorney's Office says Otis Wood, 25, was directly indicted on charges that include attempted murder and second degree assault for the shooting.
Larry says he was not friends with Wood, but they did not have any problems with one another. The last thing he remembers on the day that he got shot is Wood calling him.
Online records show Wood does have a lengthy criminal history in Prince George's County.
"I wasn't robbed, not my shoes, not my phone, not a dollar, so why?" says Larry.
Wood is scheduled to go to trial in August, and Larry and Tina say they will be there.
In the meantime, Larry still has recovery ahead. He suffers from insomnia and having no recollection of the shooting haunts him.
He says he hopes to get stronger, get back into the workforce, and become an advocate for victims of gun violence or even just a major injury.
Larry says part of the bullet that struck his head is still there.
"To know that I have one of those big old bullets in my head, it's a blessing, I can see, talk, you know, I'm not a vegetable."
Tina says she credits God for saving her son's life, but his will to keep pushing is what keeps him alive.
"I have to get hugs every day I'm just so thankful that he's here," she says.
"Larry is an incredible guy and I know God has great things ahead for him, he's here for a reason."