This is an archived article and the information in the article may be outdated. Please look at the time stamp on the story to see when it was last updated.
LONDON (CNN) — One woman has died and many people were injured, the British Press Association said, in what police are treating as a terrorist incident at the Houses of Parliament.
The Leader of the House of Commons said a police officer was stabbed. Many of those hurt had "catastrophic injuries", PA said.
"Officers — including firearms officers — remain on the scene and we are treating this as a terrorist incident until we know otherwise," police said.
Latest developments
One woman is confirmed to have died during the incident. Houses of Parliament, roads and Westminster underground station on lockdown. Images show a car crashed into the perimeter fence of Parliament. Members of Parliament locked in, told to stay away from windows. Police were called at 2:40 pm after reports of a firearms incident. Air ambulance at the scene to remove casualties.
London's Metropolitan Police said on Twitter they were called at approximately 2:40 pm to reports of a firearms incident near Westminster Bridge, near the main parliament building.
The incident occurred as parliament was in session, and proceedings in the House of Commons were suspended. Dozens of MPs remained in the House.
"It seems that a police officer has been stabbed, that the alleged assailant was shot by armed police," the Leader of the House, David Lidington, told MPs.
He confirmed that a serious incident had taken place "within the estate."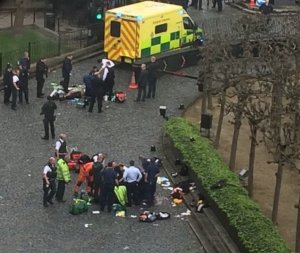 "An air ambulance is currently attending the scene to remove the casualties. There are also reports of further violent incidents in the vicinity of the Palace of Westminster but I hope colleagues on all sides will appreciate that it'd be wrong of me to go into further details here until we have confirmation from the police and from the House security authorities about what is going on."
Around half an hour after the attack, former Cabinet minister Anna Soubry said on Twitter she and Security Minister Ben Wallace were ordered into the Parliament lobby at gun point by police.
"Colleagues taken out of the library at gun point by counter terrorist armed police officers," she tweeted.
People were photographed running from the scene as police put the whole area in lockdown.
Emergency response
Police said in a statement that a full response unit had been sent to the scene, along with ambulance crews and air ambulances.
"We have declared a major incident and our priority is to assess patients and ensure that they are treated and taken to hospital as soon as possible."
Police appealed for anyone with photos or video of the incident to pass them on to police.
TV images have emerged of a car crashed into perimeter fence outside the Parliament building.
US President Donald Trump at a Women in healthcare panel told reporters he was getting updates from London.
"Some big news having to do with London just happened," he said.
Henry Mance, a political reporter for the Financial Times, told CNN that people inside have been told to stay away from windows.
Member of parliament Sir Gerald Howarth said the House of Commons was in the middle of a vote when the session was suspended and members locked in.
"It appears to be very, very serious indeed. The Leader of the House has told us it's been confirmed that one police officer here has been stabbed. It appeared that a car was coming towards the House of Commons mowing down pedestrians on the way and the driver then got access to the parliamentary estate stabbed a police officer and was shot," he said.
The-CNN-Wire
---
(CNN) — British lawmakers were locked down inside Parliament on Wednesday as a frightening scene unfolded outside.
A woman was killed and many others were injured in an attack just outside Parliament on Westminster Bridge, the British Press Association said.
Members of Parliament took to Twitter to post messages and updates to the outside world.
George Freeman watched the Metropolitan Police coordinate the lockdown, touting them for their "incredible bravery."
Several members of Parliament also turned their attention to the emergency personnel putting their lives on the line.
"The news coming in from Westminster attack is chilling. My heart and prayers go out to those affected and to our brave emergency services," Jim McMahon said.
Showing another view, Barry Sherman posted a photo from inside Parliament to Twitter, saying, "ALL LOCKED UP IN chamber!"
While others were staying put, Labour politician Jonathan Reynolds rushed to the day care center in Westminster Palace to see his 2-year-old son, Seth, as panicked scenes unfolded outside Parliament.
"Thanks for messages. Not able to speak to anyone at present but we're doing okay here. Thoughts and prayers with those most affected," Reynolds said via Twitter.
Even while locked down, some members of Parliament turned their attention to those most affected: the victims.
"All of our thoughts are with the people who have been injured in this attack outside Parliament on Westminster Bridge, and our hearts go out to them and to their families at this really, really difficult time," Hilary Benn said.