This is an archived article and the information in the article may be outdated. Please look at the time stamp on the story to see when it was last updated.
ARLINGTON, Va. - A Marymount University men's lacrosse player just played his first season as a sophomore.
Just one year before, no one knew if that would ever be possible.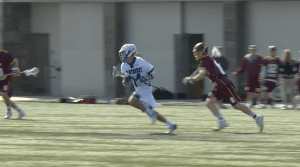 In the winter of 2017, right before starting what was supposed to be his first season, Brad was diagnosed with mononucleosis.
He went to the doctor after his neck began to swell.
"I was like, I'll just get through this mono and I'll be fine," says Brad.
"The next night, he called me pretty hysterical, saying he was having a hard time breathing," says Brad's mom, Lisa.
She rushed him to Virginia Hospital Center and Brad was admitted due to his neck swelling.
However, day by day, Brad's parents say he wasn't getting better.
"I really just as a mom felt, no, somethings not right here," says Lisa.
Men's Lacrosse Head Coach, John Reynolds, who also battled a case of mono in college, says he never expected Brad to be in the condition that he was.
"I had never seen anything like that," he says. "His neck was so swollen."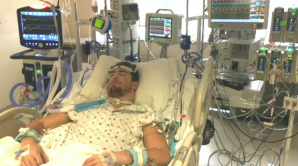 Also noticing little progression, Coach Reynolds made a call to a doctor he knew, a previous player's father, and Brad moved to the ICU.
The Sechler's believe it saved Brad's life.
"My mom came up and tried to hug me and keep me warm, and then I begged her to help me, and that was the last thing I remember," says Brad.
Lisa says they were only in the room for a few minutes before Brad fully coded and stopped breathing.
"All mayhem broke loose, it's like you see on TV, code blue, you see doctors on top of your son doing chest compressions," says Brad's father, James. "You see the flat line on the monitors, you hear the doctor really yelling and screaming, 'Get me a smaller tube, we're losing this kid.'"
Doctors were able to resuscitate Brad and bring him back. He was rushed to get an emergency tracheotomy so he could be put on a ventilator.
"It was the worst practice we ever had," says Coach Reynolds.
James says that night, doctors said the only thing that would give Brad a chance is to put him on an ECMO machine, which is a heart-lung bypass machine.
Doctors had to transfer him to MedStar Washington Hospital Center.
"He says he's not doing well and he may not make it through the night," says James.
Brad fell into a coma, and his parents say they did not leave his side.
"I was just whispering in his ear to keep fighting, keep fighting, and when you get out of here I will get you that English bulldog you always wanted," says Lisa.
Doctors gave him a 20 percent chance to live, but things suddenly began to change.
"His numbers keep improving, all of the sudden, Saturday things just started to get better," says James.
A few days later, doctors woke Brad up. A day after that, he was up and walking.
"I thought I was asleep for like three hours, but it was like five days," says Bad. "I was just shocked, I didn't really believe it."
A miraculous few weeks after he was admitted in the hospital, Brad got to go home. He spent a few weeks at the National Institute of Health Clinical Center in Montgomery County.
"Had he been in a different place where they had not followed him, I think things could have turned out unfortunately very poorly," says Dr. Jeff Cohen, Chief of the Laboratory of Infectious Diseases.
He says they are still analyzing Brad's tests to see if his immune system or a genetic disorder sparked his rare reaction.
"About one percent of patients will have severe complications with mononucleosis," says Dr. Cohen. "It's really inspiring to see how well he's done, it really gives us motivation and incentive to try to understand this virus better."
Brad says there was one conversation he did remember having in the hospital--his mother promising to get him an English Bulldog if he got better.
He got "Athena," and with her help, started his road to recovery. 
"I told myself that I was going to get bigger, stronger, heavier, than I had ever been," says Brad.
That's just what he did.
By the fall of 2017, just about six months later, Brad was back at Marymount and back on the lacrosse. field. 
"He plays every game, he's giving you everything he has, every day he's out there and to know what he's gone through struggle wise, it's profound," says Coach Reynolds.
Brad says his "second chance" has given him a new outlook on life.
"I've been set back so far, that I want to keep trying to get better and better."