This is an archived article and the information in the article may be outdated. Please look at the time stamp on the story to see when it was last updated.
HERNDON, Va. – Band camp is next week, school is a few weeks away but the date that about one hundred band students really can't wait for it almost one year away.
The Herndon High School Band has been chosen to represent the United States at the 75th anniversary of D-Day in Normandy, France in June of next year. The band, called the "Pride", will be honoring the WWII servicemen and women, veterans, and active duty military and their families.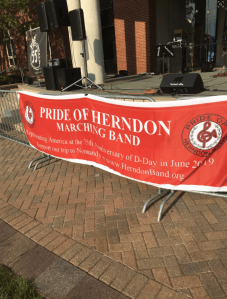 The Pride will also be paying a special tribute to the brave men of the USS Herndon, the destroyer that led the Allied naval armada in the assault on France.
On May 12th, Herndon High School Bands hosted a fundraiser at the Herndon Town Green featuring the rock band "The 5:55." The Herndon High School Jazz Band and Saxophone Ensemble also performed.
The band needs to raise $600,000 to travel to Normandy next summer.
To learn more about the opportunity, click here.