This is an archived article and the information in the article may be outdated. Please look at the time stamp on the story to see when it was last updated.
FORT WASHINGTON, Md. - A couple lost their lives in a house fire on Thursday night according to Prince George's County Fire and EMS. 
Fire officials say a neighbor reported the fire on the 500 block of Round Table Drive just after 11:30 p.m.
Crews found the couple near the foyer of the house and performed resuscitative measures, but unfortunately they were not able to regain breathing.
Loved ones identified the couple as 75-year-old Harry Proctor and 80-year-old Clara Proctor, great-grandparents married for 50 years.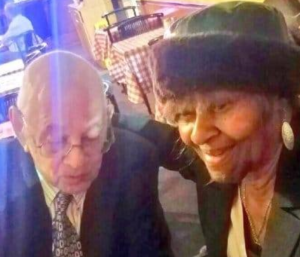 Neighbors who lived next to the couple for decades were devastated.
"They're very good people, very kind to us. It's very unfortunate that such kind people, something like this would happen to them," says next-door neighbor, Marlon Epps. "They were there for us anytime we needed them and we were there for them."
The Proctor's daughter, Teresa, tells DCW50 they were long-standing, active members of their church, Campbell AME in Southeast D.C., as well as their community.
"They were  the most kind and generous people and never met a stranger," she says.
Fire officials say due to the well-advanced fire combined with the unsafe interior conditions and excessive storage, all firefighters were evacuated from the burning home and continued to battle the fire from the safety of exterior positions.
During  the fire, a firefighter experienced a sudden onset of respiratory distress and was transported to an area hospital, but has since been released.
The fire department believes the fire started in the lower level of the house, however, the cause remains under investigation.
Firefighters could not locate a working smoke alarm in the house.
Prince George's County Fire and EMS say these are the 2nd and 3rd residential fire related fatalities in Prince George's County this calendar year.
Crews went back out to the neighborhood on Friday to check neighbors' homes for working smoke alarms and offer to install them for free.
"It breaks our hearts because we're out here every day pushing smoke alarms and developing an escape plan for your home and what to do incase a fire occurs, and despite our best efforts, tragedies still occur," says Chief Spokesperson, Mark Brady. "It's a sad time, but it's also a time the firefighters take advantage of to spread a good message."
The fire department is reminding residents to have 10-year smoke alarms on every level of your home, primarily, in hallways just outside of sleeping areas.
Prince George's County residents that need a 10-year smoke alarm installed in their home and can not afford to purchase one themselves should call 311 and ask about the free smoke alarm installation program.