This is an archived article and the information in the article may be outdated. Please look at the time stamp on the story to see when it was last updated.
HAYMARKET, Va. - Prince William County Police say they arrested four students the day before graduation for vandalizing school property.
Police say a School Resource Officer was notified about the vandalism in the stadium complex at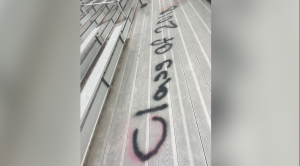 Battlefield High School on 15000 Graduation Drive in Haymarket.
The investigation revealed that sometime between the evening of May 28 and the morning of May 29, obscene images and profanity were spray painted onto the field and track as well as the visitors' bleachers.
Police say an animal carcass, which appeared to be "roadkill", was also dismembered and scattered throughout the premises.
On June 4, the SRO received an anonymous tip concerning the possible identities of the suspects involved.
Police say upon further investigation, the SRO, with the assistance of detectives with the Property Crimes Bureau identified, and determined that all of the suspects involved were Battlefield High School students.
Following the investigation, the SRO obtained arrest warrants for Jordan Pumphrey, 18, Ramon Romero Serpas, 18, Bryant Schaible, 18, and Jared Yusko, 19, who eventually turned themselves in to police later that evening.
Pumphrey, Romero Serpas, and Schaible were all charged with destruction of property and conspiracy to commit a felony.
Yusko was charged with conspiracy to commit a felony.
The school would not say the students grade level, but did say in a letter sent home, before the students were caught, that they would not walk at graduation if they were in fact seniors.
They also would not say if the destruction was a school prank.
The Class of 2018 graduated at Jiffy Lube Live on Tuesday afternoon.
In a letter sent home, Battlefield's principal, Ryan Ferrera, said in part:
"Although this is a very sad situation, I do want to say that I am very proud of the Battlefield High School community for working together to raise the reward money and share helpful tips that have led to identifying those responsible."
All four men were held on a $2,000 secured bond and will be back in court on August 21st.