This is an archived article and the information in the article may be outdated. Please look at the time stamp on the story to see when it was last updated.
PRINCE GEORGE'S CO., Md. - If you call 911 in Seat Pleasant, Maryland, you may see Phil Martin.
He's an Emergency Medical Technician with Prince George's County Fire and EMS.
When he's not working in an ambulance, he works behind the scenes as an emergency dispatcher for American Medical Response, monitoring ambulances across the district for lower-level EMS care.
"I'm happy that I see both sides, the side that's actually being out there and the side that's getting help to people when they need it," he says. "It does feel good."
While working two different parts of the public safety field, Phil says the journey to this position has been anything but easy.
He has autism.
"I was diagnosed with it around the age 14, 15, that age range," he says.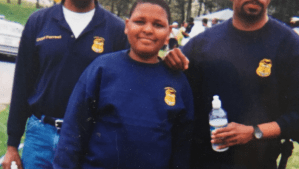 Phil says he struggled in school and was not tested and diagnosed until he repeated the ninth grade three different times.
He switched to a special education school in the county, which at first, he thought was great.
"They give you responsibilities, they give you jobs in the school, they pay you, you have a track record almost like having a real job outside of school," he says. "It helped a little bit, but it's weird, because I also tell people it didn't help, because they gave you this false world. They blocked out a lot to stuff that actually happens when you're out."
Phil says it's something he quickly realized in his first job before taking the two jobs he has now with Prince George's County Fire and EMS and AMR.
"They would sneak up behind me and touch me without me knowing they were coming," he says. "They look at me and say, oh you can't have autism, you don't look like somebody with autism and it kind of led me to well, what does someone with autism look like? How can you look at me and tell me that I don't have something that I know I have, something that I've struggled with, something that held me back in life?"
Autism Speaks defines autism, or autism spectrum disorder, as a range of conditions characterized by challenges with social skills, repetitive behaviors, speech and nonverbal communication, as well as by unique strengths and differences.
Phil says he struggles with sensory overload and what he calls "having a filter."
"Loud noises, touching, personal space," he says. "It's like the filter between hey I shouldn't say this, and hey this is here so I think it's OK to say it, it's like it's gone."
Phil says he quickly learned that people just don't understand what it means to be on the spectrum, or more importantly, they don't try.
He works every day to change that, especially in the work force.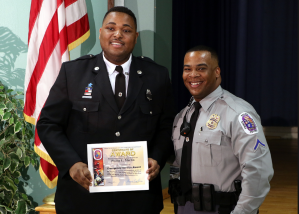 His best friend, Ricardo Biddy, a Prince George's County Police officer and volunteer EMT, stands behind him on that.
He credits Phil for saving his life.
"I feel like one of the positive traits of autism is he picks up on detail," he says. "I feel like he probably picked up on a little he detail he knew something wasn't right."
Back in March of last year, Ricardo says the two were on the phone while he was sitting in his police cruiser in his driveway.
During their conversation, Phil noticed something was off with Ricardo's speech. Without thinking, he rushed to his home.
It turned out that Ricardo was suffering from carbon monoxide poisoning after the odorless gas leaked into his police cruiser.
"He got there before any police car, any ambulance, that's something about Phil he knew something was wrong, I'm thankful for that."
Phil's knack for detail has and continues to take him far.
He's developed a love for photography and he now takes pictures for a variety of clients including Amtrak and Coca Cola.
"To think that someone with autism is creating some of the images that other people are looking at for trains, it makes me proud," he says.
He's also proud to be a father to a two-year-old little boy, though he says he worries about the future.
"It is something that worries me moving forward being a dad, is, am I going to be able to give him my all without being held back by autism."
He says he will cross that road when he gets there.
In the meantime, he's proving stereotypes wrong. He speaks to parents of kids with autism to learn to embrace it. He's encouraging employers to hire people with autism and learn to understand it, like those in his current two jobs.
For those on the spectrum, he has some advice too.
"I don't think anybody should mask who they are, I did it for quite a while and I don't regret doing it," Phil says. "But, if I could go back, I wish someone said to me, hey don't change who you are because other people may not accept you."
For more on Phil's mission and photography, visit his website.