This is an archived article and the information in the article may be outdated. Please look at the time stamp on the story to see when it was last updated.
WASHINGTON, D.C. - The Metropolitan Police Department says they are continuing the search for a man, considered armed and dangerous, for the murder of a D.C. woman.
D.C. Police say 48-year-old Xavier Dunmore is wanted for second degree murder while armed in the death of 40-year-old Wykeena Ferguson.
Back on June 10th, police say they found Ferguson, known as 'Keena' to her loved ones, deceased from a gun shot wound.
Ferguson's cousin, Shanita Ware, says the last time anyone heard from Wykeena was back on June 8th.
"My grandmother said we can't contact Keena, we've been calling her and it keeps going to voicemail, so we were like maybe she's busy," says Ware. "But when the next day came, and then they did the welfare check. They put the tape up and they said it was a crime scene and we just knew."
Ware says Ferguson has two boys and her youngest son had autism. She was working two jobs at the time of her death.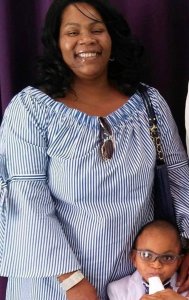 "Keena meant so much to me," says Ware. "She was doing everything, she was doing hair, she was just getting ready to start her catering business. She really loved her boys, for them to grow up without her, it's hard. We just want closure."
Shortly after Ferguson's death, family members told DCW50 that they knew Dunmore was responsible. About a month later, police confirmed that.
Now they say they wish they had known about his past.
"He seemed to be a nice guy, never would I have thought, never ever would I have thought that he would have done something like this to her," says Ware.
DCW50 also uncovered court documents that show Dunmore was sentenced to just over six years behind bars, followed by three months probation, for an aggravated assault charge.
Back in April of 2002, documents say Dunmore was accused of punching a woman named Angela Jackson in the face, breaking her jaw. She had to go to the hospital and have her jaw wired shut.
Documents say two months later, while she still had remnants of wiring in her jaw, Dunmore assaulted her again in the face and threatened to kill her with a knife.
DCW50 spoke to Jackson's mother, who declined an interview.
She said that her daughter died shortly after the second assault, for an un-related reason, and they tragically had to have the wires removed before she was laid to rest.
After her death, Jackson's mother says she spoke with a prosecutor and eventually Dunmore was convicted.
Another family member, who asked DCW50 to protect her identity, says she met Dunmore through Jackson. However, she also knew Ferguson, so she often saw him over the past year.
She says the conversation that the two had still haunts her.
"He said to me, 'I love her like I love Cluck.' We called Angela 'Cluck,'" she says. "It brought cold chills on my arms. Then, two weeks later, they find that girl in there dead."
When asked if she had ever spoken to Wykeena about Ferguson's past, the family member said no.
"I really wish I would've said something to her," she says.
Both Jackson and Ferguson's loved ones now hope Dunmore turns himself in so they can finally move on.
In the meantime, Ware says she's found her own way of trying to move forward.
"It's not going to bring my cousin back to hate him, so I forgive him," she says. "It's for my closure, because he has to live with this for the rest of his life when he's caught, he has to remember what he did not only to her, but to her family, her children, her friends."