This is an archived article and the information in the article may be outdated. Please look at the time stamp on the story to see when it was last updated.
WASHINGTON, D.C. — On Friday, at-risk DC teens will participate in a project that turns illegal weapons seized by the MPD into art and functional objects like benches.
This effort is part of the Youth Creating Change program, which falls under the Youth and Family Services Division of the police department. The project is called Guns to Roses.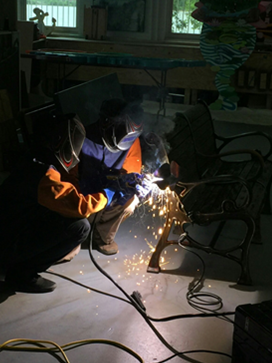 The teens will use traditional blacksmithing to turn the firearms into something new. The project's focus, MPD says, is two-fold: to strengthen the relationship between DC's youth and its police, and to provide these teens with skills that could help them find employment in the construction industry.
"Gun violence affects us all and compromises everyone's safety," said Chief of Police Peter Newsham. "To many community members this program signifies one less violent offender with a weapon. It represents one less crime committed. Even more, it represents one less victim of gun violence."
Since 2016, MPD has recovered almost 3,000 illegal firearms, and violent crime in the District is at its lowest levels in nearly a decade.