This is an archived article and the information in the article may be outdated. Please look at the time stamp on the story to see when it was last updated.
MONTGOMERY CO., Md. — A Maryland State police cruiser was struck Saturday on Interstate 270 by a car that then struck another vehicle, rolled over, and caught fire.
Some lanes were blocked on the interstate after the crash occurred near Montrose Road in Montgomery County around 6:40 a.m.
The officer was parked on the shoulder and completing a routine traffic stop when a Ford Fusion crashed into his empty cruiser. After it rolled, the driver was trapped in the car, but the trooper was able to remove him from the vehicle before first responders arrived on the scene.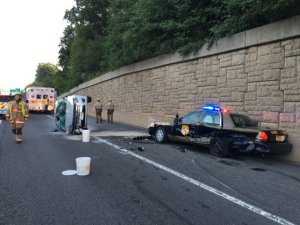 The driver was transported to the hospital with non-life threatening injuries.