This is an archived article and the information in the article may be outdated. Please look at the time stamp on the story to see when it was last updated.
LAS VEGAS, Nv. – The Capitals are a glowing example of what it means to win humbly.
The Caps bought an ad in the Las Vegas Review Journal to congratulate the Golden Knights on their season.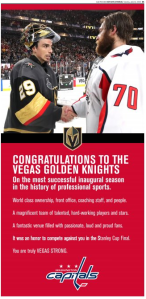 The ad that ran Tuesday read, "Congratulations to the Vegas Golden Knights on the most successful inaugural season in the history of professional sports."
In the ad, the Caps complimented the Vegas team on their world class ownership, front office, coaching staff, and people. The Caps went on the call the Knights a magnificent team of talented, hard-working players, and stars.
"It was an honor to compete against you in the Stanley Cup Final," the ad said.
The ad finished with, "You are truly VEGAS STRONG."