This is an archived article and the information in the article may be outdated. Please look at the time stamp on the story to see when it was last updated.
COLLEGE PARK, Md. – Sometime around 10:30 pm Tuesday Rushern Baker called his gubernatorial opponent Ben Jealous and congratulated his competitor and told him he was ready to help him win the ultimate prize in their primary race—a seat in the Governor's House.
Jealous was declared the winner of the Governor's Democratic Primary by collecting 39 percent of the vote compared to Baker's 33 percent. Baker held a close to 600 vote lead after early voting before Jealous surged ahead. The former head of the NAACP collected more than 31,000 votes Tuesday.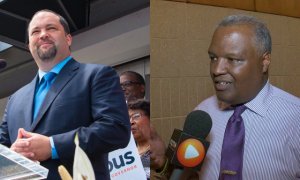 Jealous will square off against incumbent governor Larry Hogan in November.
Baker told his supporters that he has no political plans once his term as Prince George's Executive Director ends.
Baker: This is a bittersweet night for me but tomorrow there is work to do to get a Democrat elected governor.

— Joe Dominguez (@joethetvguy) June 27, 2018
Rushern Baker tells his financial backers "You won't have to contribute to my campaigns any more." Says he looks forward to being a private citizen after his term as PG County Executive ends. pic.twitter.com/iF2kyRWHRP

— Joe Dominguez (@joethetvguy) June 27, 2018