This is an archived article and the information in the article may be outdated. Please look at the time stamp on the story to see when it was last updated.
WASHINGTON, D.C. - Police say they are investigating a shooting and stabbing that happened less than 24 hours apart on the same block.
D.C. Police say they responded to a shooting on the 100 block of 56th street in Southeast around 8:40 p.m. on Monday night.
Shooting at 2044 hrs in the 100 block of 56th STSE. Lookout for Dark colored older model Lexus or Acura 4 door with a wing on the back with the license plate in the front window. pic.twitter.com/F8rYyHUF1q

— DC Police Department (@DCPoliceDept) August 21, 2018
A family member tells DCW50 a 6-year-old girl was shot in the leg while in a car. Her 12-year-old sister and mother were injured by shattered glass and bullet fragments.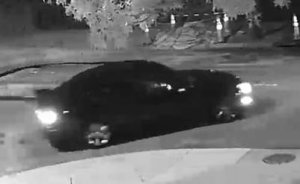 Police believe the suspect was inside a vehicle, caught on surveillance camera, when he or she fired several shots at the victim's vehicle.
Neighbors said they heard a number of loud gunshots.
"This is normally a very quiet neighborhood, we have no problems with our children coming outside to play but now we're going to have to rethink that," said a woman who asked DCW50 to protect her identity.
Not even 24 hours later, police say they responded to a stabbing on the same block around 2:36 p.m.
Police say two people were involved in an argument when one man stabbed the other.
Stabbing in the 100 b/o 56th St SE at 1436 hours. Lookout for Suspect B/M, light complexion, shoulder length dreads, white t-shirt, blue jeans, may be operating a white SUV, possibly an Escalade. pic.twitter.com/hOFWS5U7Fh

— DC Police Department (@DCPoliceDept) August 21, 2018
A family member says the victim was the 6-year-old's step-father, who went to speak with a neighbor about what they might have known about the shooting. It's unclear why the situation turned violent.
Police announced on Wednesday that they arrested Orlando Jamal Brown, 31, of Southeast D.C., for assault with a dangerous weapon.
Police could not say if the two cases were related, but the victims in both cases are expected to be OK.
Anyone with information is asked to contact D.C. Police at 202-727-9099.