This is an archived article and the information in the article may be outdated. Please look at the time stamp on the story to see when it was last updated.
WASHINGTON, D.C. – One teen, one adult female and a firefighter are injured after a house fire broke out in Northeast, D.C. Friday night.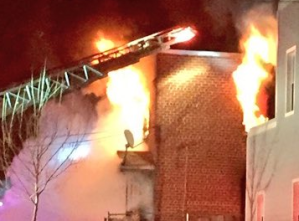 The fire happened at a two-story semi detached house at the 4600 block of Hunt Place NE. Two people escaped the fire from the second floor by lowering themselves onto an overhang and then down to ground level. They were treated with minor injuries, officials say.
A firefighter was also transported to the hospital with minor injuries.
Eight residents have been displaced by the fire.
The fire is now under control. Investigators are on the scene searching for the cause of the fire.