This is an archived article and the information in the article may be outdated. Please look at the time stamp on the story to see when it was last updated.
COLUMBUS, New Mexico (Border Report) — A fifteen-year-old whose mom asked she not be identified by name, gets up in the moonlight around 5:45 a.m. every morning to prepare breakfast for her and her 11-year-old brother, whom she has to rouse for school every weekday.
Both of their schools are in the United States, in Deming, New Mexico, about 45 miles from their home in Palomas, Mexico.
We are choosing not to identify some of the students because we weren't able to speak to their parents for permission to use their names.
The girl attends Deming High School. Her brother is a middle-schooler who attends at the public campus nearby. She said, in Spanish, that she doesn't mind waking up early and that she wants to live in the United States.
"There are more opportunities here for work," she said. "I like it here."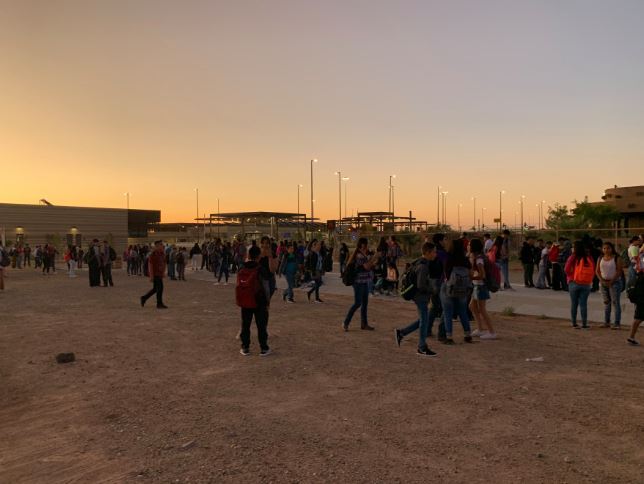 Students who live in Palomas, Mexico, wait for school buses to take them to a school in Columbus or Deming, N.M., on Thursday, Sept. 26, 2019. (Border Report Photo/Sandra Sanchez).
Like hundreds of other students from Palomas, Mexico, who were gathered Thursday morning in a parking lot of the port of entry in Columbus, New Mexico, she and her brother are American citizens. But their families are not. Therefore, they live in Mexico but they attend school in the United States.