This is an archived article and the information in the article may be outdated. Please look at the time stamp on the story to see when it was last updated.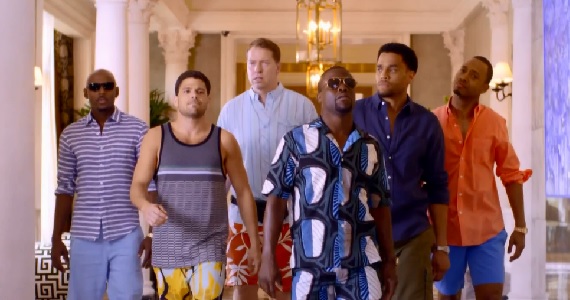 There are times when a movie demands word after word of analysis and examination.  This is not one of those times.
If you enjoyed Think Like a Man, you should rejoice because the whole gang is back.
Candace (Regina Hall) and Michael (Terrence Jenkins) are getting married, but the groom's mother, Loretta (Jenifer Lewis), is trying to dominate the entire affair.
Dominic (Michael Ealy) and Lauren (Taraji P. Henson) are making a go of it, but their careers are taking them in different directions.
Kristin (Gabrielle Union) and Jeremy (Jerry Ferrara) are trying to have a baby, but the structure and new rules are taking the romance out of it (Jeremy is too bummed out he can't smoke weed anymore!  This qualifies as too burdensome of a rule in the year 2014?)
And, Cedric (Kevin Hart) has left Gail (Wendy Williams), so he can live it up in Vegas and throw the most outrageous bachelor weekend ever known to mankind.
When the men and the ladies split up for separate Bachelor's and Bachelorette's parties, who will have the wilder time?
Will true love prevail when circumstance and life starts to interfere?
It will be no shock to anyone that Think Like A Man Too is completely predictable and cliché.  Writers Keith Merryman and David Newman give us a story that manifests every stereotype of a crazy Vegas weekend including the absurd gambling, excessive drinking and strip club partying the typical hormonally challenged frat boy imagines a trip to Vegas to be all about.
Then, we have a couple nerdy, square people to serve as the butt of jokes, every relationship facing some sort of difficulty and challenge you just know can be overcome by the time the credits roll, and a domineering mother-in-law from Hell story.  Been there.  Done that.
Of course, you have a strong cast working overtime to keep you interested and they almost succeed.  Hart is acting as silly as possible to get some laughs and earns every penny and then some of his pay day on Think Like A Man Too.  I might have fallen asleep without him making me laugh.
Eventually, Think Like A Man Too kind of becomes everything to everybody as director Tim Story inserts a little schmaltzy and a little hilarity on a path to being a little average.
Think Like A Man Too is rated PG-13 for crude sexual content including references, partial nudity, language and drug material.