This is an archived article and the information in the article may be outdated. Please look at the time stamp on the story to see when it was last updated.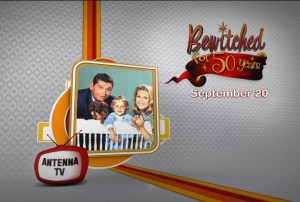 To celebrate the 50th Anniversary of Bewitched, Antenna TV is airing a 50 back-to-back episode marathon on September 20th.
Click the video below to find out where you can find Antenna TV.
Bewitched for 50 Years
Antenna TV is celebrating 50 years of "Bewitched" with 50 episodes of the classic series for a marathon airing on Saturday, September 20th beginning at 1pm.
Antenna TV's "Bewitched For 50 Years" marathon will be hosted by "Bewitched" star, Erin Murphy, who starred as Tabitha Stephens, the magical daughter, during the show's original run from 1964-1972.
Erin Murphy will also host the 50 episode/25 hour marathon and provide insights and commentary in interstitial segments between the episodes. The marathon will feature a selection of the top episodes from the series, with some of Erin's favorite episodes. "I am so happy to be participating in Antenna TV's Bewitched anniversary marathon. The enduring popularity of Bewitched, and its loyal viewers, means so much to me. I'm honored to be part of the legacy," said Murphy.
Antenna TV's "Bewitched For 50 Years" marathon will feature the following episodes:
1pm I, Darrin, Take This Witch, Samantha
1:30pm The Witches are Out
2pm …And Something Makes Three
2:30pm A is for Aardvark
3pm Driving is the Only Way to Fly
3:30pm Open the Door
4pm Remember the Main
4:30pm Eat at Mario's
5pm Alias Darrin Stephens
5:30pm The Joker is a Card
6pm Junior Executive
6:30pm A Strange Little Visitor
7pm Speak the Truth
7:30pm And Then There Were Three
8pm Fastest Gun on Madison Avenue
8:30pm Baby's First Paragraph
9pm Divided He Falls
9:30pm Nobody's Perfect
10pm Moment of Truth
10:30pm Endora Moves in for a Spell
11pm Dangerous Diaper Dan
11:30pm Oepipus Hex
12am Hoho the Clown
12:30am No More Mister Nice Guy
1am It's Wishcraft
1:30am Long Live the Queen
2am Toys in Babeland
2:30am No Zip in My Zap
3am A Safe and Sane Halloween
3:30am Ancient Macedonian Dodo Birds
4am A Prince of a Guy
4:30am To Twitch or Not To Twitch
5am Playmates
5:30am Sam's Secret Saucer
6am Samantha on Keyboard
6:30am Samantha Fights City Hall
7am I Don't Want to be a Toad
7:30am Instant Courtsey
8am Samantha's Supermaid
8:30am One Touch of Midas
9am Mrs. Stephens Were Are You?
9:30am Marriage, Witches Style
10am Tabatha's Weekend
10:30am Samantha and the Beanstalk
11am A Bunny for Tabatha
11:30am Tabitha's Very Own Samantha
12pm Just a Kid Again
12:30pm TV or Not TV
1pm Hansel and Gretel in Samantha
1:30pm Tabitha's First Day in School
All times Eastern
Episodes highlighted in bold are Erin Murphy's favorite episodes