This is an archived article and the information in the article may be outdated. Please look at the time stamp on the story to see when it was last updated.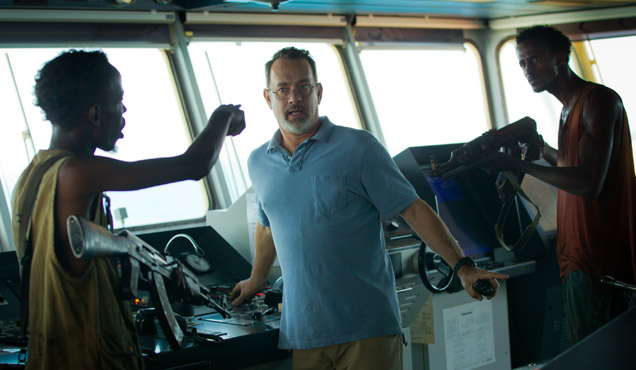 We have had an amazing run of great movies for the past month or so.   Prisoners!  Cloudy With A Chance of Meatballs 2!  Gravity!  Runner Runner (Not!).  Now, Tom "Mr. Oscar" Hanks is trying to enter the race, and announcing his presence with authority.
Hanks stars as Captain Richard Phillips – the sea captain in charge of the Maersk Alabama cargo ship, which is taking humanitarian supplies around the Horn of Africa, and past dangerous Somali waters (we'll get to talking about that).
That area has been plagued with modern day pirates, and a group of them led by Muse (Barkhad Abdi), have been ordered by the local crime lord to score something big.  With nothing to lose, the pirates (who you should take very seriously because they do not wear eye liner) daringly attack the ship, which doesn't have any armed guards and is sailing too close to the coast in violation of very important advisories from NATO and the US Maritime Administration (that's the part of the story most don't want you to think about).
When the pirates, armed with some automatic rifles and Molotov cocktails, do take the ship, they find the crew to be combative and stealthy in their resistance.  Realizing they won't be able to keep the upper hand, Muse agrees to leave the Alabama with some cash, but, in violation of the agreement, they also take Captain Phillips (you just can't trust a pirate, especially one that doesn't wear eye liner).
Can the pirates return to Somalia with Captain Phillips?
Don't think you have a moment to sneak out of the theater to refill popcorn or take a bathroom break, because you don't want to miss one minute of Captain Phillips.
Director Paul Greengrass and editor Christopher Rouse deliver a movie with amazing, perfect, masterful directing and editing.  As is his style, Greengrass makes a movie in a documentary-style that leaves each person in the theater thinking he or she should start to duck when the bullets fly because you are on that bridge, in that lifeboat or jumping out of the sky with the Navy SEALs.
Every scene flows directly into the next.  The tension and intensity keep rising and rising throughout Captain Phillips, whether it is a big action scene or quiet dialogue between the captors and captive.  You even find shock and amazement toward the end, (even though you probably know how it ends) because you feel the always present and imminent danger.
Hanks is very good, but I don't know if this is Oscar-worthy work.  He's very solid through the first 2/3rd of the movie as the reliable Tom Hanks everyman-decent-hardworking-follow-the-rules dude.  We can enjoy the way he shows us Phillips delivering secret messages and clues to the crew, and how he tries to play the pirates off one another to get some control and keep himself safe.  He makes Phillips a crafty adversary.
However, it's not until the last 30 minutes where Hanks has to do anything amazing and impressive.  Maybe that's the point.  Maybe we are supposed to see the hero being stoic in the face of a horrifying situation until he doesn't have to be stoic any more, but, while that serves the movie in the best way possible, it might not be enough to capture the attention of awards voters.
And what about that whole theme of heroism?  Members of the Alabama crew have filed a recent action against Maersk and Phillips regarding the captain's disregard for those safety advisories, decisions to sail too close to the coast to save money and the lack of security (allegedly, as the lawyers want me to point out).  It is touched upon, but glossed over in Captain Phillips, and the negative parts of the story have been getting more and more attention as the Oscar campaign ramps up for the project.  Frankly, the reality does have some of an impact on your view of Captain Phillips because this is "Based on The True Story" and everyone involved is trying to portray Phillips as the greatest hero since Iron Man.
Finally, the biggest star to emerge from Captain Phillips will be Barkhad Abdi.  Selected from a massive casting call, and with no other acting experience, Abdi has a fantastic screen presence.  He finds ways to remind us that Muse is a villain, but tempers it by showing the desperation and pressure these kids face.  And, they were kids.
All of the pirates, in real life, were 17 – 19 years old and working for warlords who were more than willing to kill them if they didn't steal and murder for big bucks.  Abdi finds a few moments to evoke some sympathy from the audience, even though he and his band of villains have committed a heinous crime.  Not an easy thing to do, even for a veteran actor.
Plus, Abdi is almost guaranteed to be the Precious of the 2014 Oscar race.  He'll never find a role so great again, get a nomination for Best Supporting Actor, become the belle of the ball, appear in tons of self-deprecating interviews playing upon his magical, star struck ride, then never be heard from again after he loses (and starts hoping to get a supporting role in a comedy or some cable show).
Count Captain Phillips among the early Oscar contenders.
Captain Phillips is rated PG-13 for sustained intense sequences of menace, some violence with bloody images, and for substance use.