This is an archived article and the information in the article may be outdated. Please look at the time stamp on the story to see when it was last updated.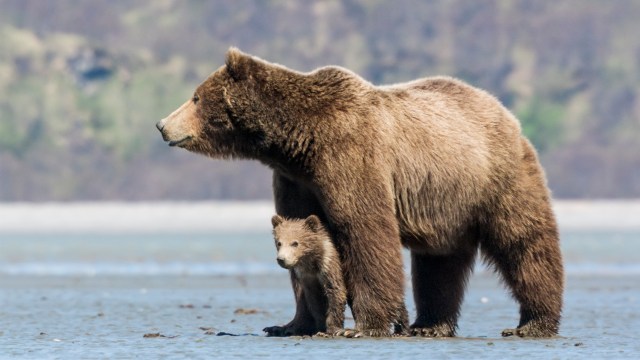 Since Earth Day is just  a couple days away that means it is time for Disney's annual celebration of nature, or, as their accountants refer to it, Our Annual Tax Write Off … because we're kinda doing it for charity.
After exploring the lives of Chimpanzees, African Cats and everything in the ocean, Disneynature and acclaimed documentarians Alastair Fothergill and Keith Scholey give us a year in the life of Bears as the movie tries to mix in traditional nature film storytelling with Disney storytelling, which can yield mixed results at times.
In Bears, Fothergill and Scholey immaculately capture the beauty and danger of this Alaskan wilderness as they follow a first time mother bear and her two new born cubs in the first year of their lives trudging through the mountains, grazing in the fields, fishing for salmon in the river and doing everything possible to avoid wolves and other bears that have ill intentions towards our little cubbies.
When focused on that nature, Bears is breathtaking.  These are filmmakers who know how to capture the utterly magnificent beauty of this far away world that feels untouched by human hands.  It's a paradise on film and might prompt you to take one of those Alaskan cruises.
However, they also want to make Bears a touchy feely cutesy movie that often eschews the idea that you might learn something for the hope that you will experience some emotion, whether it be fake or genuine.
Motivations, explanations and personalities are all assigned to the bears and other animals to make them more human and give the whole year one simple story with a beginning, middle and end complete with villains, heroism and a big climactic finale.   This isn't a Pixar movie about bears.  It's a little too simplistic for the reality we are supposed to be seeing.
Even narrator John C. Reilly gets in on the act as he provides dialogue for the bears, which just doesn't fit the seriousness the whole movie started with.   Bears opens like some great educational adventure, but quickly gives in to sentimentality and cheap theatrics better designed to sell some plush, stuffed cub dolls for the little kiddies.
Bears can be a joy for the whole family, but don't expect to walk away with any new knowledge, just some easygoing mutually agreed upon fuzziness.
Bears is rated G