This is an archived article and the information in the article may be outdated. Please look at the time stamp on the story to see when it was last updated.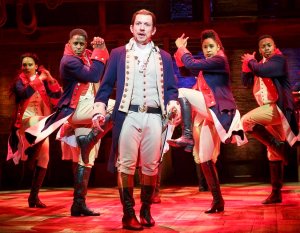 Yes.
It lives up to the hype – and I'm not just saying that because I share the same name as the show.
Hamilton is the Broadway phenomenon by Lin Manuel Miranda, which climbed to the top of the theatre world in 2015 – and has stayed there ever since.
The musical, which tells the story of Alexander Hamilton, this country's first Treasury secretary, seems like a boring history lesson.  The subject matter makes the success of the show even more intriguing: history told through a multi-cultural cast, jazz, R&B, hip-hop and eye-stopping music.
The music brilliantly weaves together Alexander Hamilton's life as a poor orphan to an ambitious political leader, into the narrative of the US's journey towards independence from the British.  The songs are catchy, the dance moves are mesmerizing, and the actors are excellent.
A big bonus – Lin Manuel Miranda made a quick stop through D.C. to see the show on opening night.  He received a rock star welcome when audience members learned he was in the house, and deservedly so.  The man who wrote the book, music, and lyrics is now known as one of the most influential playwrights in modern time. Aside from the impressive number of Tony Awards this show has won (11), the cast's album also received a Grammy.
The show is so popular, there are concurrent performances in cities all across the country, including Las Vegas, Chicago and of course, here in D.C.  Overseas, it is even enjoying a run in England.

Hamilton runs at The Kennedy Center through September 16, 2018.  For more information, you can go to: https://www.kennedy-center.org/video/index/A98096
Story written by Robin N. Hamilton // Photos courtesy of Joan Marcus