This is an archived article and the information in the article may be outdated. Please look at the time stamp on the story to see when it was last updated.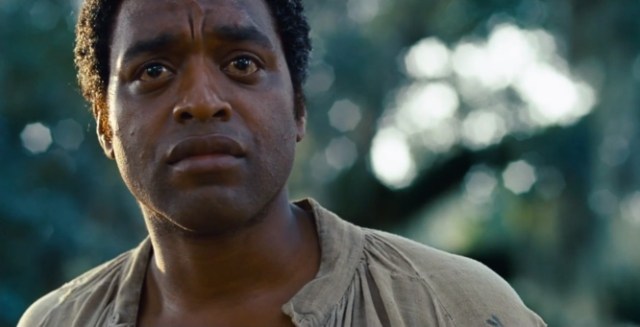 Based on the true story, Chiwetel Ejiofor stars as Solomon Northup – a free man living in upstate New York making a living as a musician in 1841.   He scores a sweet pay day in Washington, DC by performing for a traveling side show and circus, but soon finds out it was all a ruse.  He's kidnapped, his free papers are destroyed and he is sold into slavery on a plantation in Louisiana.
Over the next 12 years, he faces a horrifying life, and hopes to one day be free again.
Director Steve McQueen and Ejiofor bring to life all of the horror, brutality and desperation you ever read about slavery in ways that are shocking and unforgettable.  This even exceeds the impact of the TV miniseries Roots.
In 12 Years A Slave, Ejiofor gives the audience more emotion with a glance than most actors could muster with an entire page of dialogue, which is why McQueen focuses in on him as he thinks back to his idyllic life, looks into the abyss of despair as he considers his current enslavement and shows the crushing defeat all of those beatings have put into the proud man, making him cower and hide his true nature when he is the most compelling, intelligent human being within miles and miles.
And, McQueen makes 12 Years A Slave into a movie about what people will do in the most trying of circumstances with long, slow, painful moments where other characters turn a blind eye to injustice or find themselves forced to carry it out with the false glimmer of a hope that it might entitle them to a miniscule, smidgen of relief.
While Ejiofor looks to be putting himself on the road to an Oscar nomination, he might be joined by co-star Michael Fassbender.  In his last big Oscar bait movie, Shame, Fassbender made a name for himself with his … umm … physical traits (if you know what I mean).  In 12 Years A Slave, he becomes infamous for portraying Edwin Epps – a raging, sadistic, alcoholic slave owner with no sense of humanity towards those on his plantation.   He is the perfect villain, spewing hatred at every turn and earning ignominy for his ignorance.  Fassbender stirs up more hate and derision from the audience than any villain I have seen in years.
McQueen only fails to provide the audience with a better sense of the timeline.  We need to see how each of these 12 years plays out and see more of a transformation of Solomon Northup as he grows older to drive home the truth that he has lost 12 of what should be the greatest years of his life.  Would it have overly burdened McQueen to let us know what happens in what year?
12 Years A Slave will be opening in limited release, and expanding across the country over the next several weeks.
12 Years A Slave is rated R for violence/cruelty, some nudity and brief sexuality